ads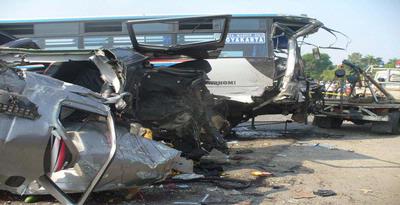 Transportation business actors feel cornered by both society and the society by the government, which should be positioned as a builder. It thus can dampen asked to invest in the transportation sector when the need is huge.
As stated by observers transport Thehamihardja Rudy, Sunday (09/18/2011) in Jakarta. Rudy asserted that the government and society must not easily judge the transport company.
Rudy took a sample Company Otobus Kencono Resources. He emphasized that sanctions against Sources Kencono actually even counterproductive. Let alone there are new entrepreneurs who want to establish a company otobus. Two or three generations of bus companies, will also continue its efforts lazy, he said.
Since a few years ago at PO Sources Kencono, Rudy said, there is a system of "reward and punishment". The driver did not crash was rewarded, whereas if there are conductor stirring up the driver for speeding could be fired. Why keep a da accident? Lha, the government should evaluate it, "he said.
In some accidents involving buses, said Rudy, if truth be told there is the biggest part of other road users such as motorcycles. But a similar accident occurred repeatedly due to lack of improvement and development, particularly for motorcyclists.
Serves Accidents Public Transportation Deputy Secretary-General of Indonesia Bambang Harjo, was actually expressed more accidents caused by private vehicles rather than by public transport.
Bambang citing data during transport widths, which for 661 people died from 4006 cases of accidents for 23 August to 4 September 2011. Only five percent of accidents involving public transport. In contrast 95 percent of accidents involving personal vehicles, he said.
Rudy also reminded the government and the media, to further highlight the problem of road accidents involving personal vehicles. The numbers are very large, and must be solved. If employers bus instead always improve themselves, without support from the government, he said.
Bambang Harjo also said that road accidents caused more factors such as unsterile its path so that on either side of the house so many people who crossed both humans and animals.
Then, Bambang said, there are two-way street intersecting banya and narrow, so the risk of collision is very large. Also less lighting and roads damaged many holes. With the condition of infrastructure such as in Indonesia, the level of driver fatigue will be high so that kawaspadaan was reduced, he said.(KOMPAS.COM)